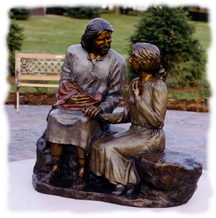 In January of 2000 I received a phone call from a woman named Mary Verwys in Grand Rapids, Michigan. She had been referred to me by Christian artist and friend, Max Griener, who upon hearing what Mary wanted created, thought it was a piece best sculpted by a woman artist.

As we talked, Mary informed me that she is a side-walk counselor near one of the abortion clinics in Grand Rapids. Her heart's desire has been to help establish a memorial garden for the thousands of babies who have been aborted (terminated, is the new term they are using instead of aborted, abortion, ect…) in her city. It would also be a place of healing for the mothers of those babies.

As we continued talking I was absolutely overwhelmed by the thought of this project and I knew the Lord was orchestrating it. Within just a few weeks the Lord began to bring many people into the project. Soon every detail was being dealt with by people whose hearts burn with the desire to see God's will become a reality.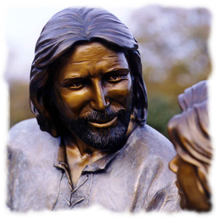 I am personally honored to be chosen by Him to fulfill my part in this project. Could this be the most important project in my life? I actually find myself asking this question. Lives are already being touched by this project and we have just begun.

The Lord is using the "Hope" monument in more ways that we ever imagined. So many "Stories of Hope" have come to us; many we will never hear. Hope and healing are coming to so many who have lost babies through early death due to abortion (termination), miscarriage, stillbirth or accidental death. Men, as well as women, come to the various locations around the country to spend time with God in these beautiful public, yet private settings. How grateful we are to see God's healing mercy at work in lives.