First of all, let me thank you and your church for making me feel so welcome this past Sunday. It was a real joy not to feel "out of place" in a place that I have not been to in a long time…When you unveiled that statue of Jesus and the woman I could not stop crying. I had an abortion less than a year ago and have not had release for the depression and pain that I felt. When you showed that statue I was so overwhelmed and I knew that I need God's help to deal with it.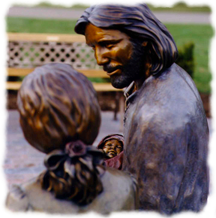 "I lost my child one hour after birth, and I have a memorial for back east. When I moved here, I felt separated from her. Now I can come to this garden, see my daughter's name, remember her, and enjoy the quiet serenity. I can reflect on the fact that God brought me peace and comfort, even though I didn't understand the situation. I can lay down flowers and meditate, with peace – knowing that I will see her again one day."
Mother of a child lost shortly after birth
"I suffered for many years when I became aware of what my abortion choice really meant. God lifted me from the pit of despair that I felt I deserved to be in. Seeing the name of my child, memorialized in this beautiful garden – helps me feel close to him, and reminds me that I am forgiven."
Mother of an aborted baby
I have visited the Garden of Hope every Saturday since construction began. I had my abortion several years ago, and have become a Christian since then, finding God's forgiveness. I see the Garden as MY baby's place to be remembered. I am SO honored that the pro-life community built this beautiful place for ME. I feel God's love and grace here.
I just had my abortion this year. I could not face God with what I had done. When I saw the beautiful "Hope" sculpture, with Jesus looking so tenderly at the woman, I realized that I could go to Jesus and confess what I had done. I wept when I saw the sculpture and gave my heart to Jesus for the first time.
The first time I visited the Garden of Hope, I was standing behind the "Hope" sculpture with some friends. I stayed in the back, and left that day knowing I would come again to look in Jesus face when I could be there alone. I wanted time to reflect on my abortion over 20 years ago. When I returned, I had a beautifully reflective time by myself.
There has not been a day since the Garden of Hope was dedicated in October, that there have not been visitors. Even with a harsh Michigan winter with much snow, it has not stopped them from coming. Two families have chosen this place to bury their stillborn infant because of the Garden of Hope and the powerful "Hope" piece.
Garden of Hope park owners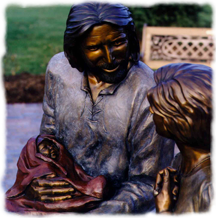 God has used this Garden in ways we could not have imagined. I have had the privilege of bringing many post-abortive woman here for the first time. I love to see their reaction to the "Hope" piece. They are all deeply moved, almost speechless at its beauty and message. They are so touched to know that the people of God have been willing to reach out to them in this way and provide this place of healing and restoration.
Grand Rapids, MI, Garden of Hope Project Director
Thank you so much for the Garden of Hope! I am so overwhelmed by the impact of the "Hope" piece. On the day you dedicated the Garden to our city, I just wanted to stay, and not go home. I wept as I saw the sculpture unveiled.
I lost two babies to miscarriage over 40 years ago. I have always known that they were in the arms of Jesus. But to actually SEE Him holding the baby in the "Hope" sculpture, just comforts me so!
A woman who suffered two miscarriages
The detail of the "Hope" piece is unbelievable.! The tenderness and forgiveness in Jesus face is so evident! The woman looks at Him longingly for mercy…and she is receiving it!
A woman came in who had her abortion ten years ago. When she saw the small version of the "Hope" piece on my desk, she began to weep. I held her for twenty minutes as she mourned and cried for what she had done.
A counselor for post-abortive women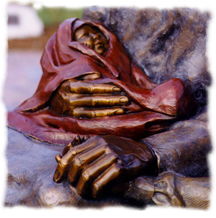 Thank you for the picture of the "Hope" sculpture. Even the picture has brought deep response from our clients. We would like one of the small bronzes to use in our counseling sessions with our post-abortive clients. The visual is so helpful in reaching the hearts of the hurting.
…What a day we had Sunday when I presented the sculpture to our people…I told them some of the stories you told us about the sculpture in Grand Rapids. I helped them to identify with the 37 million women who had aborted babies and also asked those to hold up their hands if they had ever lost a baby in early death. As they began to lift their hands, there was sobbing all over the building…What a blessing this will be for many women who need hope.
A post-abortive single mother of three