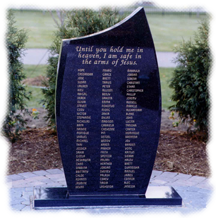 A Place for Healing…
The "Garden of Hope" is a gift of love to men and women whose lives bear the painful scars of losing a child. Whether by early death, stillbirth, miscarriage or even abortion, it is imperative that parents feel the freedom to acknowledge their loss and go through the grieving process. Visitors to "Gardens of Hope" are welcome to bring their grief and begin to find healing for their troubled hearts.
Great care has been given to every detail of the garden. Each visitor will be touched to see the artist's rendition of the tender care the Lord gives to the little ones who have gone to be with Him. It is His heart's desire that through faith in Him, each grieving man or woman will someday join his or her child in heaven. Those who have lost a child by any means are grateful to be reminded that their little one is safe in the arms of Jesus.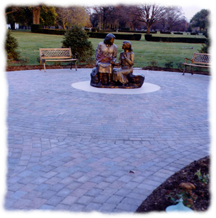 The "Garden of Hope" will touch many lives. Pastors and Counselors send individuals to the "Garden of Hope" for a private time of healing and closure. Many "Gardens of Hope" have "memorial walls" which are adorned with engraved plaques. This provides the parents, grandparents, aunts, uncles, and friends the opportunity to feel close to and remember the little ones. Some plaques have had the following inscriptions; "Until we meet at Jesus' feet", "Remembered with joy in the mourning", "Our Father's love is forever", "Until I hold you in Heaven".
Many people who have little ones in Heaven have a certain time of the year that is most difficult. Having a place to come, to feel close to their little ones and to soak in the feelings of grace, mercy, and peace is very healing.
Click
here
to see more photos of another example of a "Garden of Hope".