To My Sisters and Brothers in Christ:

I have always said that I am pro-life. I thought it was good enough just to know I was anti-abortion, but the Lord had other plans.

One day in 1999, Mary Verwys, an abortion clinic sidewalk counselor from Grand Rapids, Michigan, called me and left me sitting at my kitchen table in tears. Deep down I knew the Lord was orchestrating something. I realized, too, that I had never let myself think about those who entered abortion clinics believing it will be a quick solution to an unplanned pregnancy, only to leave that place forever changed. Mary knew the Lord wanted her to create a garden of healing so she could "find them all back" and show these women the love and forgiveness of Jesus Christ. So, under God's direction, I was led to create the Hope sculpture. It depicts Jesus cradling a baby as He sits next to a young woman, tenderly holding her hand.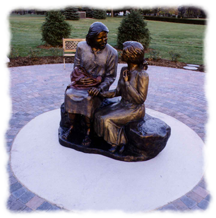 "Hope" has not only opened my eyes, but my heart as well. It has taken me to Israel, Romania and many places in the United States. I have met many women…and many men, too…whose lives have been scarred by abortion. And I have watched in awe as the Lord has brought hope into broken lives.

As I have come to know these people I have heard their stories. I praise God for the healing He is bringing into broken lives, particularly through Operation Outcry and the work of The Justice Foundation. I have shed many tears with them, prayed with them and for them and feel a deep respect and love for them. I will never be the same.

I realize, too, there is a message the Church must hear. It begins with realizing there are just as many women in the Church who have experienced abortion as exist outside the Church. The pain of abortion doesn't just go away; it lies deep inside and torments. Some of its victims try to suffocate it with alcohol, drugs and even suicide attempts. These are sometimes the high school and college dropouts or those unable to hold down jobs or sustain healthy relationships. Today millions of children, their parents and grandparents remain the victims of abortion. Its deadly tentacles reach deep into the Church.

ONE WOMAN'S STORY…

Recently, during dinner with a group of new Christian friends, the conversion turned toward the "Hope" monument. A woman in the group took me aside before the evening was over and tearfully told me about how she had overcome "a rough past", but only her husband knew of her abortion 28 years ago. The pain I saw in her face once again reminded me of the pain I so often see. She is desperate to be set free from the "prison" that has held her all these years. She eagerly wrote down the website for Operation Outcry (
www.operationoutcry.org
) along with a Bible study, "Forgiven and Set Free". We promised one another we would keep in touch. I have no doubt she will find healing because she has caught a glimpse of hope.

I find these women everywhere "Hope" is revealed. But I also find pastors helpless to address this need or unaware that a need even exist. The Church must allow those who were long silent about their abortions experience, but have found healing, speak out. Let the young people in the Church see and hear firsthand the consequences that follow the choice to have an abortion. They will learn before it is too late that abortion is not "over in just a few minutes" and quickly forgotten. And those who may already be imprisoned in their guilt and shame will realize there is hope for healing, forgiveness and wholeness.

Many of my "post-abortive" women friends have testified before Congress, met with senators and representatives in Washington, D. C., submitted their personal abortion testimonies as evidence to the courts and addressed attendees at conferences in the U.S. and abroad. They have made guest appearances on television and radio programs, but still have not been allowed by their pastors to speak in their home churches! Their testimonies will draw out many whose abortion wounds still lie deeply hidden. Without healing they remain paralyzed and incapable of becoming all that God desires them to be.

These broken individuals are among us and in need of loving ministry. We cannot be shocked by who they are. They range from the highest positions in church leadership to the quietest back-row visitor. Once we begin to get our church family on the path to healing we will be equipped to reach out beyond the church walls and draw others toward the One who says, "Though your sins be as scarlet, they will be as white as snow…Put your hope in me!"

With Hope Because of Him,